"How can I be my own best friend?"
A question that I encourage all of you to ask yourselves.
The universal truths of awareness, self love and altruism set the foundation for mental and physical wellBEing for all of US.
Humanity is in crisis and when we are in crisis there is Infinite Potential to use our suffering and our feelings as "ROCKET FUEL" to go from crisis to thrive.
That is exactly what I did.
I rocked my quarantine/ stay at home order during the pandemic by passionately producing and creating more content that bridges science, spirituality and psychiatry on my Dr. Denise Show podcast that I launched in 2016!
There are  > than 25 new episodes of the Dr. Denise Show from March 2020 until now.
In addition to the series within the Dr. Denise Show "Rocking A Betrayal" with co-host and Emmy Award Winning News Reporter Cathleen O'toole pre-pandemic I am thrilled to announce the launch of the series "Diva Discussions" with Marjan Mamooie and the series  "On Alchemy" with Dr. Andrea Best during LOCK DOWN!
Woot! Woot!
Check out the links to all of the recent episodes below as this blogpost is a celebration of creativity and passion for the spirit of INSPIRING ALL at this unimaginable time in history.
Remember that we have UNLIMITED POTENTIAL once we remember WHO we are. We are light beings and can "light each other up!"
You will LOVE the guests and cohosts that I have on my show.
Cheers to OUR collective health, unity and fight for JUSTICE for ALL!
Love~
Dr. Denise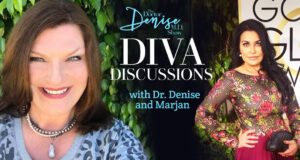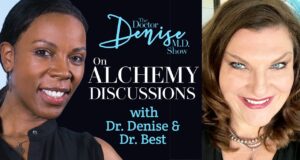 Keeping Calm in the Midst of Chaos
Celebrity Psychic and FBI Profiler Jennifer Shaffer and I Get Real About Surviving Week One of Pandemic
Dallas Wings WNBA Isabelle Harrison In Self Quarantine after Safely Returning from Italy
"It's a Team Effort." Manhattan Beach Mayor Richard Montgomery on Covid-19
Be Inspired by Pro Basketball Player, Entrepreneur and Visionary Jarnell Stokes
She Beat Cancer! Meet Business Woman and Philanthropist Marjan Mamooie
Childhood Bullying to Champion Mindset with Mateus and Ramiro  Paré
Pandemic Quarantine Crew, Dating, & Relationships with Mikah Karros LMFT
Meet My Dharma Brother Lama Tenzin Choegyal and the Girls at the CED HOUSE!
When can I be on your show Mom?
The Bottom Line on Ketamine Use for Depression, Anxiety, Addiction and Pain with Dr. Austin Harris
Sacred Siddha Medicine, Nutrition & Immunity with Dr. R. Padmapriya
Meet Author, Filmmaker, Entrepreneur and Visionary Chris Gordon
Manhattan Beach Covid-19 Survivor Denise Berger Ed.D Shares Her Path to Recovery
Fashion Icon Matt Sarafa on Diva Discussions
Covid 19 Survivor Denise Berger Ed.D. on Recovery, Adaptive Leadership and Corporate Social Responsibility
Meet Visionary and Midwife to the Divine Feminine Kaliyani Sundari
Summer Is Coming… During a Pandemic
Meet Dr. Andrea Best, Integrative Adult and Child Psychiatrist
Where are WE safe (continued)?
On Alchemy with Dr. Denise and Dr. Best
Cam Adair on Quarantine & Gaming Addiction