"You need to ASK the right questions." ~ Bill.
Bill and his beloved wife Jennifer's almost fatal car crash last week with the symbolic green muscle car inspired this trilogy series.
(Pause)
(Grateful that they are still here with US)
They literally dodged the FEAR bullet at a time of joy and celebration with their movie "Facing Fear" in post production.
An Experience of True Fear vs. False Fear is unpacked with a teaser discussion about the upcoming film.
Right here: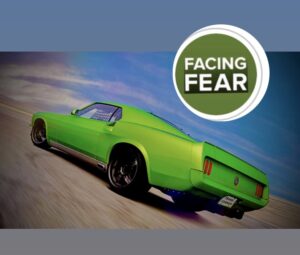 Bill Bennett's career in film spans four decades. He's made sixteen feature films and several documentaries. His work as a feature producer and director has been recognised with two Australian Film Institute Awards, for Best Film and Best Director. He's had two feature films in Official Selection at the Cannes Film Festival, four films in selection at Toronto and won Best Picture at Karlovy Vary, Palm Springs and Hawaii film festivals.
His work has screened at the New York Museum of Modern Art, and he's had three major international retrospectives. Recently Bill wrote, produced and directed a feature length theatrical documentary on intuition. PGS –  Intuition is your Personal Guidance System. The film screened to sell-out crowds across Australia and the US.
He's currently in post-production on the companion film on fear, called Facing Fear.
@billbennettoz
@facingfearmovie
@pgsmovie
Show Notes: