"Music has always been my way of healing." -Emily at Best
Emily takes us on her ascension journey describing the lyrics that dropped into her awareness at a time in her childhood that allowed her to express her true feelings to her parents months before her father had a fatal car accident.
She authentically shares her intuitive path, her vulnerabilities and her CREATIVE WHY that was ignited at age 10.
Join us for exciting news and deep discussions right here: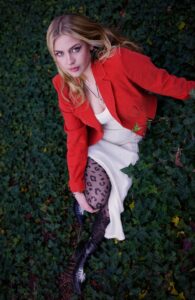 Emily at Best is a multi-faceted songwriter, musician, producer, engineer, and visual
artist hailing from Los Angeles, CA. Her name is derived from her desire to emphasize
how we are all beautiful works in progress, until the day we die. At our best and our
worst, we are ourselves. Having become familiar with loss at a young age, music has
always been an outlet of healing for Emily. Her intention in releasing music is to use
her unique voice and honest vulnerability to guide others through their own healing.
This world can be a difficult place, but what a special experience it is to be in it
together.
Emily started writing music at age 10 as a way to make sense of the world around her.
When she asked for a microphone for her 11th birthday, her parents expected her to
use it for karaoke- instead, she sang her original songs, communicating deep emotions
that both moved and surprised those who listened. She continued writing and
performing music throughout high school, playing venues such as The Mint and Bar 20
on Sunset. After graduating high school, Emily went on to attend Berklee College of Music in Boston. She is currently finishing up her senior year as a major in Contemporary Writing and Production with a minor in Music Technology.
Check out her new single and site, HERE!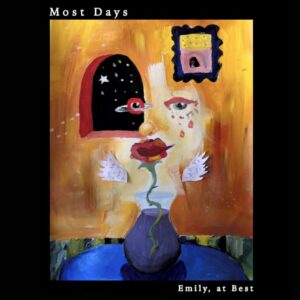 "Most Days"
No matter what I say
I know I'm breathing and That should be enough for me Most days, it calms my mind down Some days, it freaks me out All I know I can say Is that my feet don't always Hold me to the ground More than unlikely They let me fly But I don't want wings if they are shaky They lift me high But most days, I'm afraid of heights They let me fly But most days, I'm afraid of heights They lift me high But I don't want wings if they are shaky Most days, most days, most days Most days, most days, I'm afraid of Most days, most days, most days Most days, most days, I'm afraid of Keep it to myself, and it becomes a mess Oh All I know I can say Is that my feet don't always Hold me to the ground No They let me fly But I don't want wings if they are shaky They lift me high But most days, I'm afraid of heights They let me fly But most days, I'm afraid of heights They lift me high But I don't want wings if they are shaky Most days, most days, most days Most days, most days, I'm afraid of Most days, most days, most days Most days, most days, I'm afraid of Oh Oh No worry, no matter