Healing.
Hope.
Peace.
Words that drop into awareness upon sitting down and interviewing Director Michel Pascal about his film that premieres  11/8/21 at the Asian Art Film Festival at the Landmark Theatre in Los Angeles…
 "We Are Never Alone."
I AM  inspired by the level of vulnerability, humility and the spirit of HEALING, HOPE and PEACE that this film ignites for ALL OF US…
Thank you Dear Michel and Team "We Are Never Alone."
Listen here:
"Deepak Chopra partners with social entrepreneur Poonacha Machaiah, actress and humanitarian, Gabriella Wright, and director Michel Pascal to raise awareness for suicide prevention and mental wellbeing through their global movement "NeverAlone" and the film "We are never alone"
The first milestone in this movement is a public awareness film called "We are Never Alone"

A mother's search for answers when her son takes his own life. Gabriella comes home to find her 16 year old son hanging in his room. Life changes in an instant

Director: Michel Pascal / Script: Gabriella Wright & Michel Pascal"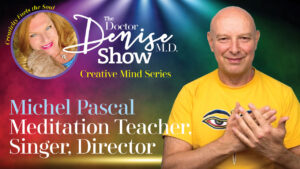 MICHEL PASCAL
Michel Pascal
is a transformational and spiritual multi-talented artist, meditation teacher, singer, composer, photographer, film director, and author dedicated to supporting underserved populations – including LA's hardened population of parolees.
An author of 20 books on spirituality, Including "Instants sacrés" with HH Dalai Lama and "Meditation for Daily Stress, 10 practices for immediate well-being" A book that describes all his new approach of Meditation. Who has taught to VA US Army for the Chaplains at Veterans Center in Sandiego, Firemen NYC, Psychotherapists, Google, 911 customer service, Google, Nestle, Harvard University, John Hopkins University, Columbia University, Pratt, Stony Brookes University, Yola At LA Yola Schools of Gustavo Dudamel, Aspire Pacific Academy,  Dharma Yoga Center NYC/LA.
As a singer Pascal has performed his "Medicine Voice" concerts several times at Carnegie Hall in NYC. This year he will perform the Christmas concert 2021. He has been singing with famous musicians like Myron McKinley, music Director of Earth, Wind and Fire, Verdine White Co Founder of Earth, Wind and Fire, Paul Pesco, Mark Ledford (vocalist of Pat Metheny Group), and many more..
He is the director of the We Are Never Alone film, one of the solutions of the Never Alone movement for Suicide prevention and Mental Health.
Check out "We are Never Alone official trailer" from michel Pascal on Vimeo.

The video is available for your viewing pleasure at https://vimeo.com/533819001/e3b2ef2a38