Dr. Andrea Best, Emmy Winning Reporter Cathleen O'Toole and I had the honor of sitting down with fourteen-year-old Kara Best to dive deep on "How To Talk About Race."
Kara started with community involvement began in elementary school with a nonprofit called SPEAK, where she worked with teens at Google headquarters. At the onset of  middle school she organized March For Our Lives and recently had a zoom call with Elizabeth Warren related to this organization.
After the murder of George Floyd Kara Best was on "How To Talk With Kids About Race In America/Nightly News:Kids Edition" with Lester Holt.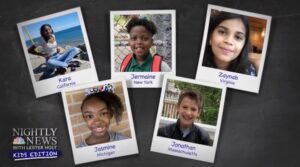 Listen and BE INSPIRED: