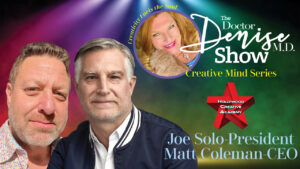 The Founders of Hollywood Creative Academy are back for a cheeky playful part 2!
Luck, intuition, right place/right time and a window into the journey(s) of Matt and Joe from childhood to the launch of HCA are in this episode.
Let's PLAY:
Hollywood Creative Academy Story:
 A creative artist education series offering exclusive access to leaders in entertainment, revealing secrets and behind the scenes knowledge in the fields of film/streaming, music, fashion, and creative/technologies.
Our vision to develop the next generation of creatives by providing video tutorials, exclusive webinars with experts, workshops, and 1-on-1 sessions with industry leaders. Students will be able to access the program from anywhere in the world.
Hollywood Creative Academy is partnered with the Young Artist Academy, founded in 1978, and known for producing Hollywood's first and longest-running youth awards. The non-profit organization is dedicated to educating, protecting, and mentoring young creative artists.
Matt Coleman
Matt has had over 25 years' experience in entertainment/music and technology sectors and has worked for Warner and Sony Music and is Chairman and CEO of the Hollywood Creative Academy based in Los Angeles which offers a unique e-learning experience for users powered by experts in the creative arts world.
Over the last 5 years he founded the augmented and virtual reality company Magnify World offering expert industry advice in AR/VR solutions and launched a series of global conferences showcasing the best AR/VR experiences from start-ups/entrepreneurs and Fortune 500 organizations. The summit is the largest conference of its kind in the Asia Pacific region attracting over 6,000 attendees with major brands and speakers from around the world. His work at Warner and Sony over 14 years saw him work with some of the largest acts in the world such as Madonna, RHCP, Jonny Cash, REM, Billy Joel, INXS and more. He is also founder of ARIVAL a winning sports start-up of the year at the HYPE innovation festival at the Commonwealth games in 2018 and raised 6 million in venture capital and founded and sold www.txtstation.com which offered broadcasters real time mobile marketing solutions for fans and stadium experiences.
https://www.linkedin.com/in/mattcolemanar/
 Joe Solo
Record Producer, Songwriter, Speaker
Credits Include: Fergie, Macy Gray, Atlantic, MTV, Epic, HBO, Paramount, NBC, Universal, Sony, Apple, Famous Music Publishing, CBS, Killer Tracks, Fox Sports Music, BMG, Hasbro Games
Seasoned Film / TV Composer & Songwriter; Songs heard on One Tree Hill, The OC, Major League Baseball, Dancing with the Stars, and many others
Past speaking engagements include The NAMM Show, ASCAP's "I Create" Expo, The Songwriter's Guild of America, Expression College of Digital Arts, Billboard's Film & TV Music Conference, The Producer's Conference, UCSB, The National Assoc. of Record Industry Professionals, and KTLA News.
Endorsements include Gibson, Apogee, Spectrasonics, Yamaha, Propellerheads, RME, Seymour Duncan, Overloud, MOTU, and Antares.
Currently Joe is helping artists and music industry pros to become successful through his Hollywood Creative Academy, instructional videos, hands-on career coaching, live seminars, and of course… songwriting & producing records.