"No Regrets" — that's the battle cry from Helen Kruskal who just celebrated her 100th birthday.!  In this episode of the Dr. Denise Show, we hear from this centenarian who takes that old phrase "laughter is the best medicine" and turns it up a notch to "Love is the best medicine."  Grandma Helen is joined by her grandson Howard Flamm, a natural health practitioner who operates wellness centers in the West.   Joining the discussion is journalist Cathleen O'Toole.  You'll hear how Helen's humble upbringing in 1920s and 1930s New York City was infused with familial love, music and creativity.  Grandma Helen and Cathleen muse on the immigrant experience — why a banana and its peel could become fodder for a family story that will be passed down for generations.  Howard reminds us of his grandparents' motto:  "Leave things to look forward to."  Grandma Helen and her straight-shooter approach will teach you what not to do as you age and how finding the people with "love in their heart" will enrich your life and longevity more than you'll ever now.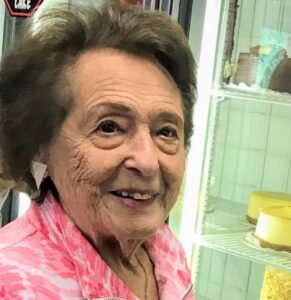 From Howard Flamm, Grandson of Helen:
         Helen Kruskal's parents immigrated from the area of modern day Belarus and arrived in the US just a couple years before the pandemic of 1918. Europe was going thru the 1st World War. The family was lucky to be able to hop a ship to the United States. They had quotas on immigrants here in America.  And the quota for men had already been reached.Helen's Father, Izzy, was dressed up as a woman for entrance to America when the ship arrived at Ellis Island. Low & behold… he got through!
            Helen, the oldest of 3, was born in 1920. So she wasn't around for the pandemic. Her Mother, Ida, didn't really talk about it. They had only been in U.S. for a few years at that point. Likely, they were just so happy to be living in America… that nothing could get them down!
            It was humble beginnings, as Helen was born in a lower-Manhattan neighborhood in New York City. Then, later, they moved to the Bronx, N.Y.  There were 8 family members (immediate & extended ) sharing a 2 bedroom / 1 bath apartment. THAT'S RIGHT!!! 8 adults shared ONE BATHROOM. They had no phone/ no T.V. (it wasn't invented yet)/ & certainly no computer.  There were definitely sacrifices on accommodations and privacy. Bu, t hey were happy and didn't necessarily believe that anything of material value would  be a missing piece of happiness. They were happy with meager belongings, as they were poor, but were surrounded by love and family. Even the toys the kids played were simple, Grandma Hellen remembers, "a spoon & a bottle cap" as providing hours of fun.  Neither of Helen's parents ever drove a car; they would walk, or her father would take the subway to go to work.
            Helen's husband, Bernie, passed in 1987. Together, they owned a wedding ring manufacturing business in New York City. Her grandson Howard, learned so much about entrepreneurship from living and working with his grandparents each summer as a teenager.   It was truly an unforgettable and invaluable experience. He parlayed that experience into starting several health and wellness centers, children's book publishing business, and a feature film production company.
            Helen and Bernie believed in working hard. But as avid travelers, always had a grand vacation planned, often times one year out. They would shut down their sole-proprietor jewelry business and head out on an adventure each summer. That included driving thru Europe for seven weeks, doing it three consecutive years! Driving cross-country. Throughout Mexico. And, many airline trips in the 1950's, when most people at that time had never been on a commercial airline.
            In her 40s and 50s, Helen took classes in the craft of oil painting. She painted dozens and dozens of beautiful still life and landscape portraits still hanging in many family members' homes today.  She also played tennis for many, many years.  In her 80s, she travelled to both China and Israel and has been on more than 10 cruises, mostly throughout the Caribbean in her later years.
            Helen has three daughters, split between New Jersey/Washington D.C./and South Florida, along with four grandchildren and seven great-grandchildren.
            She loves Broadway plays, watching game shows, New York deli and most of all — surrounding herself with the love of family.
            Today she lives in her own home. In New Jersey, just under an hour from the city. It's part of an over 55+ community. Before changes with the quarantine, she'd drive and go out with a group of ladies to dinner and the movies. They'd never talk about their age (or health problems, that's a rule they keep). They probably think Helen is about 83 ?
            For her hundred birthday, the family surprised her with a Zoom video party.  About 50 family members and close friends watched an incredible video montage that was produced by many well-wishers.  Lots of cake and food was served at her place in New Jersey.  The gala affair was the next best thing to being there.