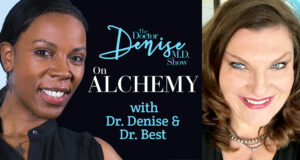 What an honor for Dr. Andrea Best and I to have our first "On Alchemy" show of 2021 with inspirational visionary Sara Mayo-Rex!
I was left speechless. Sara and Dr. Best are mothers that have a common vision for ALL children to feel, speak and BE their own loving best friend and realize the power of love, service and compassion for ALL KIND!
Are you ready to BE inspired and find out about Speak 2 Win?
Listen:
Sara Mayo-Rex is a strategist, consultant and motivational speaker passionate towards the realization of personal and professional excellence. She received a Bachelor's degree from Temple University in Philadelphia, PA. and studied Software Engineering at the University of Maryland. After a briefteaching career in Washington, DC. Sara combined her passion for teaching with her academic studies in biology and systemsengineering to pursue a healthcare consulting career. Sara served as a Senior Consultant within the Department of Defenseamassing process engineering, organizational change management and operational excellence expertise. Beyond the DoD, Sara has held several key leadership positions within Kaiser Permanente, SPEAK, Inc,Singer Burke Zimmer, LLC and the National Association for Securities Professionals. Over the span of a 25 year career, Mrs. Mayo-Rex develops operational excellence strategies and drives enterprise wide LeanSigma process standardization initiatives to advance organizational capability maturity; achieving breakthrough results for her clients. Her role as Executive Strategist & Coach gives rise to her commitment to excellence, talent activation and cultivating leadership capabilities within corporations and beyond. As achange agent, Mrs. Mayo-Rex is a recognized community leader and youth advocate striving to createopportunities and access for the underserved. Subsequent to this passion, Sara founded SPEAK, Inc. and has designed countless transformational scholastic programs and curriculum products that improve the outcomes of youth by focusing on five core leadership tenets – service, philanthropy, excellence, achievement and knowledge. As the Program Director for the NASP Wall Street Financial and Scholastic Training (FAST)Track program, Mrs. Mayo-Rex leverages the dynamic SPEAK delivery model to develop emerging youth leaders through a masterful blend of business ideation, management and administration principles with ASQ Six Sigma caliber problem solving, critical thinking, situational and facilitative leadership models. Proven student success, breakthrough corporate results and sustained culture and community change are hallmarks of Sara's leadership effectiveness. Mrs. Mayo-Rex is a truly dynamic leader committed to transforming and activating excellence within everyone whom she engages! She currently resides in Santa Clarita, CA. with her husband Todd Rex, their three children Zoe, Zion and Maximus. She can be contacted for at sararex@speak2win.org.